"Once you're in the game, the game is in you."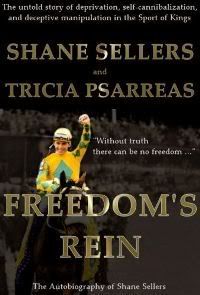 Shane Sellers spent 26 years as one of the country's greatest jockeys, both on the track and behind the scenes. He battled his way through the powers to increase jockey weight limits and reduce the growing amount of eating disorders, fought for endorsements so that his fellow jockeys would not risk their lives for a mere $50 per mount, and pushed for better insurance for the men and women who risk their lives for every race.

In return, Sellers was banished from the sport in hopes that he would keep his secrets and his goals to himself.

Now Sellers is back and he has an amazing story to tell. Welcome to the secret world of horse racing; a place where heaving bowls and sweat boxes cover every jock's room, horses run numbly towards their final destinations, and one man continues to battle for what he knows is right.

Co-written by Shane Sellers and Tricia Psarreas, Freedom's Rein is more than a tale of horse racing; it is the ultimate fight for justice.
Please visit the MERCHANDISE page to see our current Fourth of July specials!